27th Annual ART AUCTION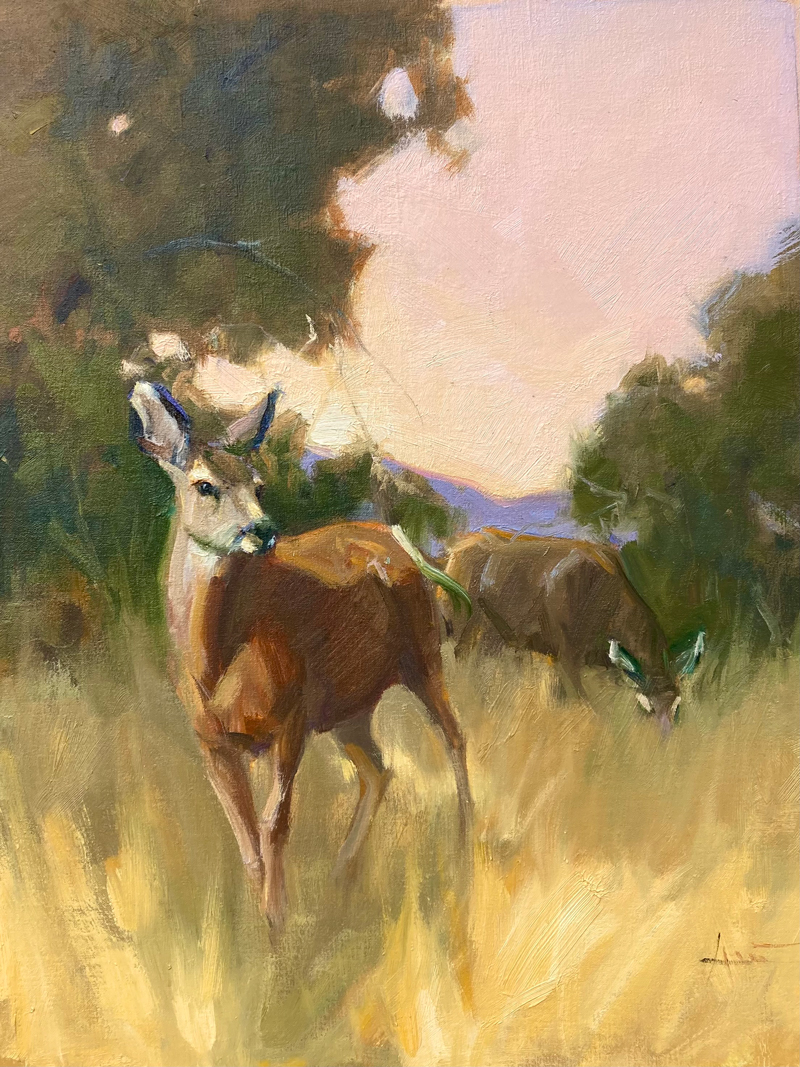 ---
Benefiting the Artists Charitable Fund
which pays a portion of medical expenses for artists in crisis
Saturday, August 12, 2023
Rain or Shine - 6:00 p.m. Preview Art
7:00 p.m. Auction Begins
Auctioneer, Sculptor George Lundeen
Enjoy free refreshments under the stars while bidding on original paintings and sculptures by well known artists, including sculptors: George Lundeen, Cammie Lundeen, Joshua Tobey, Daniel Glanz and George Walbye, and painters: Lani Vlaanderen, Russ Tanner, David Harms, Rick Stoner, James Biggers and Cathy Goodale.
North Lake Park Amphitheater - Taft Avenue & 29th Street, Loveland, Colorado, across from Sculpture in the Park show, southwest of the Loveland High School - access via North Lake Park driveway next to the Fire Station on Taft Avenue
---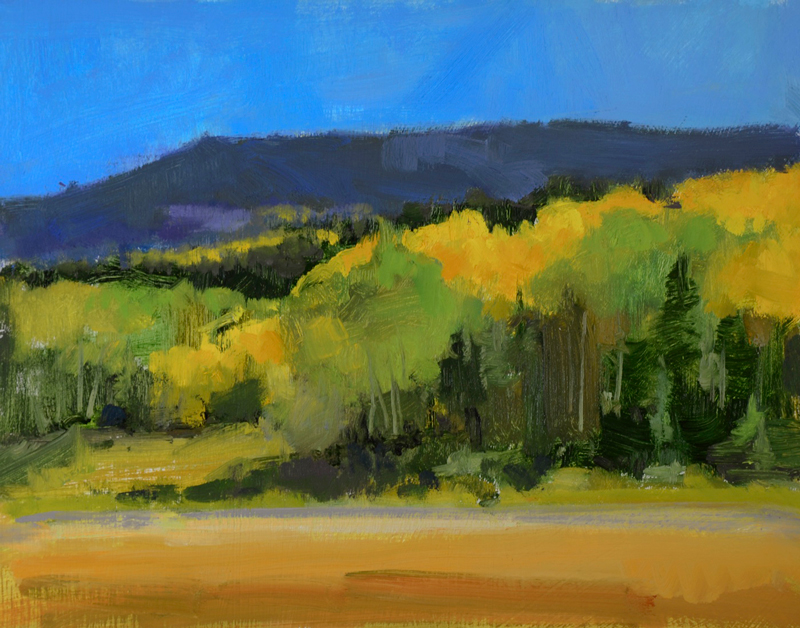 ---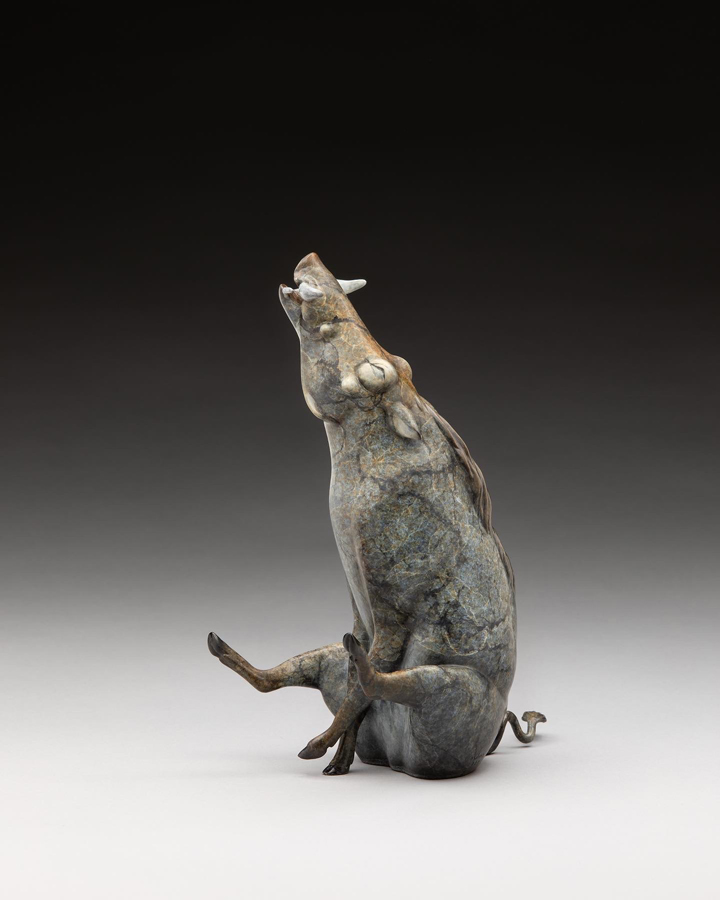 ---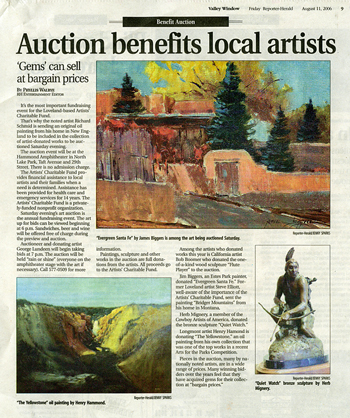 Colorado based Artists' Charitable Fund assists visual artists, painters and sculptors living in the United States, who have been making a living from their art for at least five years - proven by providing copy of latest IRS filing by paying a portion of their medical / dental / eye-care bills. For example, the Fund has purchased a wheelchair, paid for eye surgery, provided funding for an artificial leg, paid partial medical expenses of several artists who have cancer, as well as other needs for medical assistance.
The Artists' Charitable Fund is recognized by the IRS as a 503(c) charitable organization and your donations are tax deductible.
Since its inception over 20 years ago, the Artists' Charitable Fund has paid nearly $500,000 in medical / dental bills for artists in crisis. Please join us at the annual August auction, which is the Artists' Charitable Fund's only fundraiser. This charitable fund provides assistance for artists in crisis. The annual art auction is always held the second Saturday evening of August - adjacent to the major sculpture shows in beautiful Loveland, Colorado.
If you are an artist (in the U.S.A.) who needs financial assistance because of medical, fire or other disaster, please EMAIL our coordinator, Judy Archibald.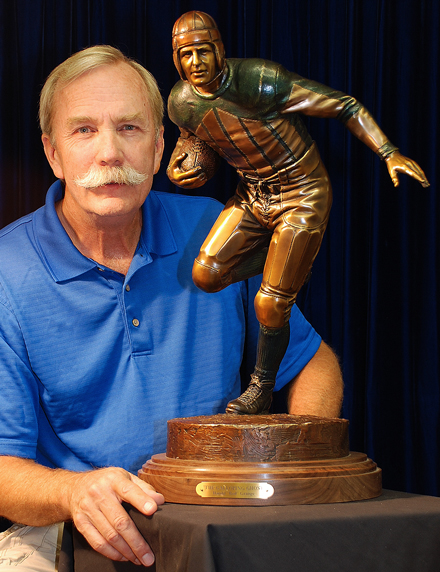 George Lundeen, internationally known figurative sculptor who graciously serves as our Auctioneer is also President of the Board of Directors, which includes the following Board Members: George Lundeen - President; Members at large: George Walbye, Dan Glanz, Ralph Mullinix, Paul Hummel, Joshua Tobey and Georgia Torson.
All Board members are either artists or patrons of the arts, dedicated to helping artists who are facing unforeseen crisis.
We sincerely appreciate your ongoing donations throughout the year and purchases of art at the annual auctions, in addition to your participation in this privately funded endeavor and gratefully acknowledge artists willing to donate art for these August auctions, as well as any person or business willing to contribute financially to the Artists' Charitable Fund, which is designated by the IRS as a 503(c) charitable organization.
---
Fund Coordinator, Judy Archibald
Email:Art-Fund-inquiry
Please mail your contributions to:
338 East 4th Street
Loveland, CO 80537
Checks payable to: Artists' Charitable Fund